As I for a change decided to stay in Sweden for the Christmas holidays the choice for a place to spend New Years was easy; at my friends farm Pungsund. What started out as a small and simple dinner for four eventually grew to a dinner for nine.
And the menu that was meant to have only five dishes grew to seven, then nine, and eventually ended with ten… Things eventually got out of hand and with a ten course meal some sort of planning-scheme had to be made but in the end this full course dinner wasn't to anyone's dismay and there wasn't much left on the plates nor in the complaint box!
The meal consisted of hors d'oeuvre, three entrées, a consommé, two main courses, a cheese dish and two desserts. Four types of drinks were served: a welcoming drink with the hors d'oeuvre made from apple wine-glögg mixed with sparkling wine, a pale ale with the entrées, a red (bourgogne) and white wine (riesling) with the main courses and eventually a madeira wine with the desserts (and after that of course even more wine and other liquids!).
All the meat (except the seafood) had been caught by ourselves.
We sat down for the first entrée at 8 pm and left the table at 4-5 am, however all courses were eaten more or less before the midnight fireworks (apart for the last tiny dessert).
The full menu (translated from Swedish):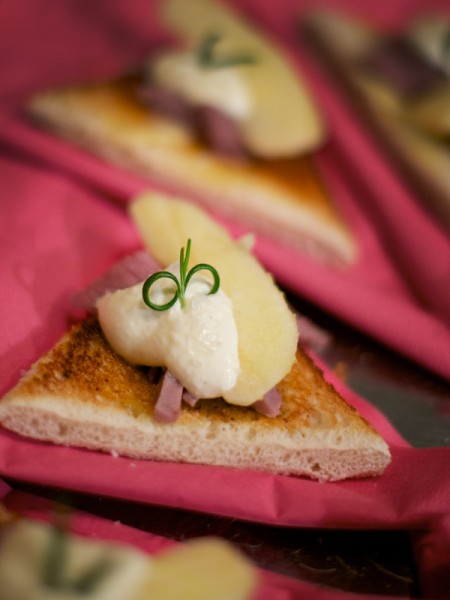 1. Cold cut elk steak with a slice of apple and horseradish cream, served on a toast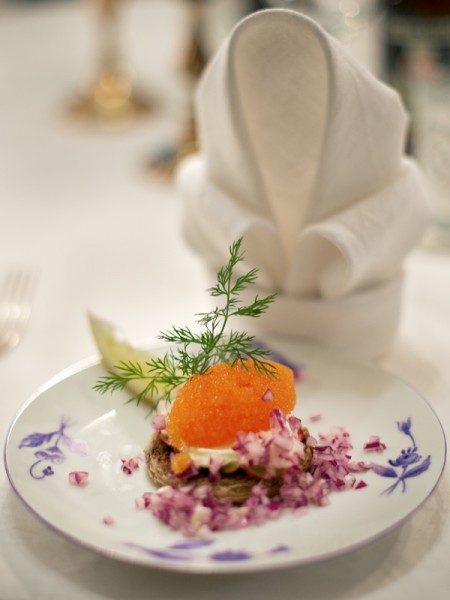 2. Vendace roe toast with a thin slice of apple and diced red onion, served on buttered toast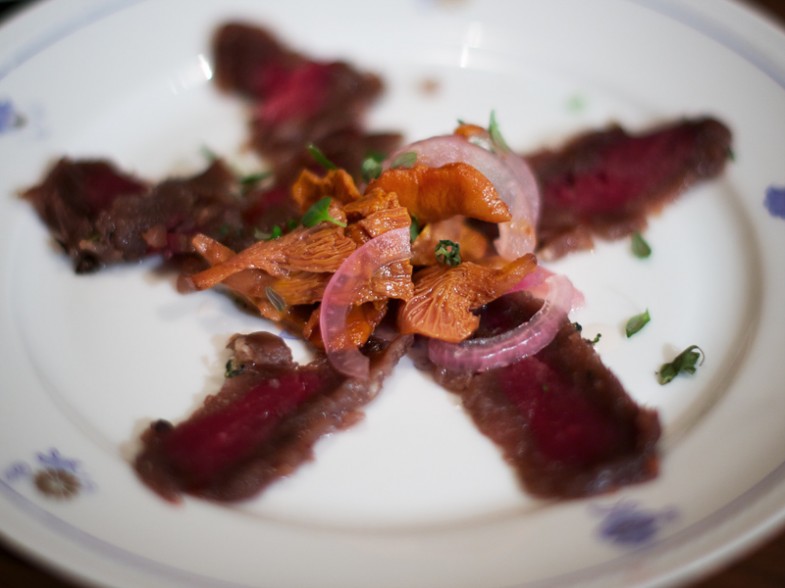 3. Gin & juniper cured fallow deer tenderloin with pickled chanterelles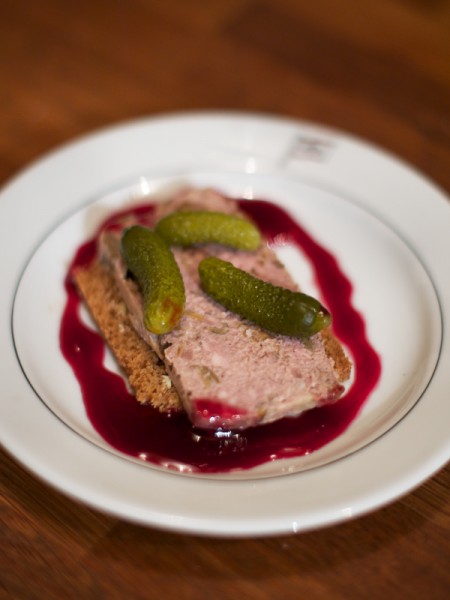 4. Pigeon paté with chanterelles, pickles and cumberland sauce, served on brown bread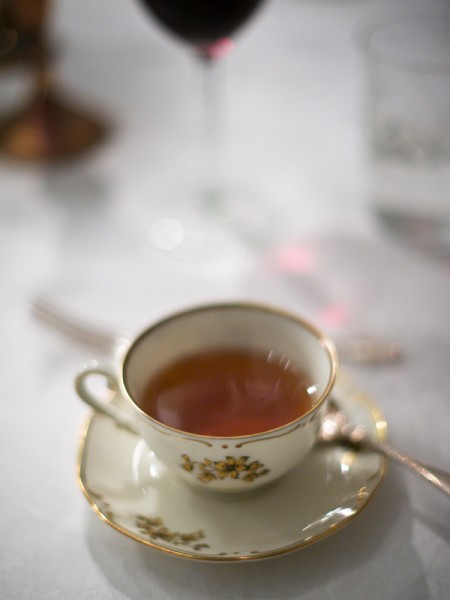 5. Meat and vegetable consommé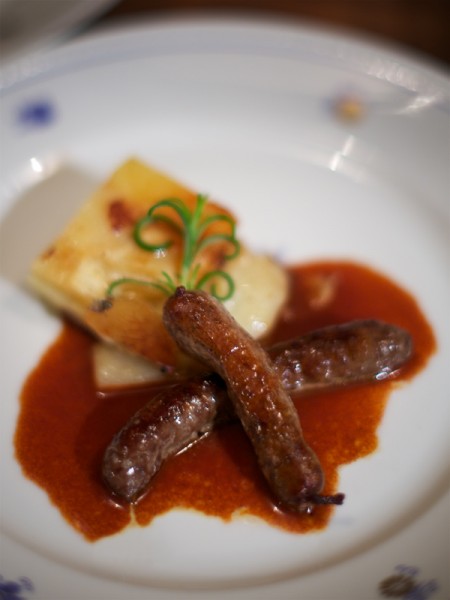 6. Red deer and stored cheese sausauges with potato and chèvre gratin and red wine gravy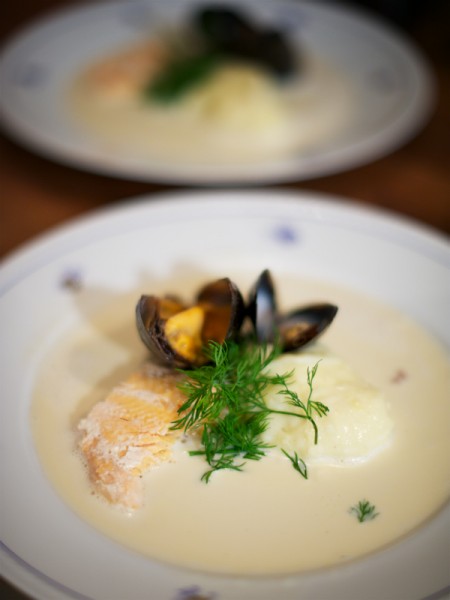 7. Arctic char with potato purée and clam sauce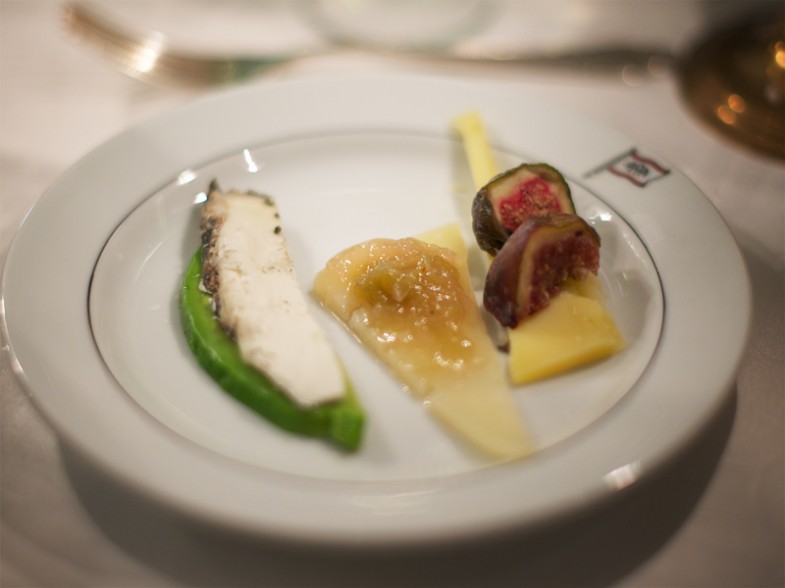 8. Cheese plate with three types of cheese, avocado, rhubarb chutney and figs
9. Caramelized pancakes with apple/cinnamon compote and vanilla ice cream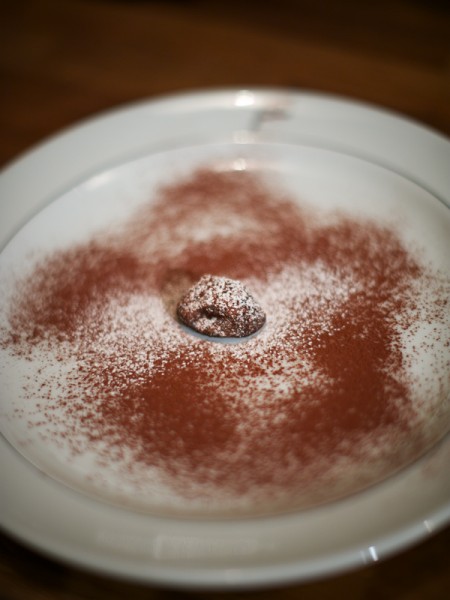 10. Punch truffles